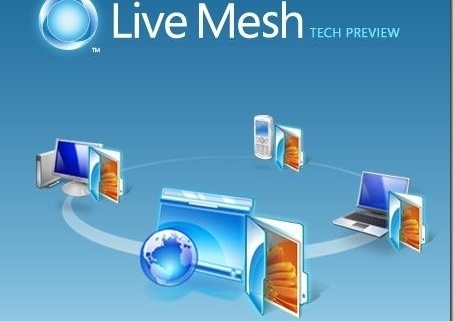 The Easy Way To Sync Files Between PC's to PC's to Mac's and Cloud
Are you using the 2GB free version of Dropbox ? If you don't know what is Dropbox, it's okay, there is something better than Dropbox, and it's called Windows Live Mesh.
Right out of the box Windows Live Mesh offers you 5GB of free cloud storage space. Compare to Dropbox's 2GB basic free plan, and you're getting an additional 3GB cloud storage. (Also note, the distinct difference between cloud storage hosted by Microsoft and cloud storage from Amazon, which Dropbox still relies upon, and its tendency to go down from time to time.)
Sounds pretty good for additional free cloud storage? Well there is even better news, Windows Live Mesh doesn't just sync to the cloud, it also allows you to sync files and folders to other PCs or Macs with almost no limit.
With multiple computers that have Windows Live Mesh signed-in, you can sync peer to peer without even sending files to Microsoft.
If you have two or more computers with Windows Live Mesh installed, you can sync folders between them (peer-to-peer). With Windows Live Mesh, you can sync up to 200 folders, each up to 50 GB in size and containing up to 100,000 files. When you sync folders between computers, any changes you make on one computer will be made on the other whenever the computers are online at the same time. The contents of the synced folders are saved on all of the computers, so you can still work on them even when you're not connected to the Internet.
Do the sums.  200 folders times 50 GB, that's almost 10TB of files that can be synced between computers!
Here is how to get started
Go download Windows Live Mesh if you haven't already.  It's one of the programs within Windows Live Essentials.
Go to Start Menu, Type "Mesh"
Find the program called, "Windows Live Mesh"
From here you can now select the folders that you wish to Sync.
Expand the folder. You will find "Select devices", clicking on this will allow you to pick and choose which device or computer you wish to sync with. A list of Computers that you have signed-in with your Windows Live account will be showing here. Also from there you get the option to store the file on the SkyDrive or not.
If you have used any kind of online backup or sync tool before, Windows Live Mesh will not disappoint you.
Give Windows Live Mesh a try if you have multiple computers. Managing files between your computers has just become easier than ever !
https://www.spottydog.com.au/wp-content/uploads/2011/11/windows-live-mesh1.jpg
366
454
Admin
https://www.spottydog.com.au/wp-content/uploads/2013/08/logo@2x.png
Admin
2011-11-19 08:20:49
2011-11-19 08:20:49
Ditch Dropbox - Setup Windows Live Mesh