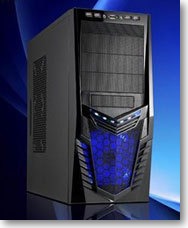 Custom Built Computers are one of our specialities.
You can choose your own components, or let us use our years of experience in computer assembly and repair to choose components that we know perform well and have the lowest failure rates.
We can also suggest components that you may not be aware of or technology that exists that you knew nothing about to create your dream machine.
A custom built computer can include many benefits, like a Solid State Hard Drive, higher Memory capacity, to a more powerful CPU for increased speed and performance.
The power to choose your own computer parts means that you can dictate its strengths, and Spotty Dog Computer Services can source all the components you may require and we have the know-how you will need!
Get a Custom Built Computer and experience the difference
Spotty Dog Computer Services are the experts when it comes to custom building a computer.
If you're looking for professional advice, expert know-how or just some friendly pointers, Spotty Dog Computer Services have the solution for you.
We offer a wide range of products at value for money prices, and you can turn to us when it comes to custom built computers and related services.
A custom built computer is unlike the standard computer you buy off the shelf at a retail store.
It means you can specify its internal components and specifications to whatever standard you choose.
A custom built PC needs the best quality parts, and Spotty Dog Computer Services can source all the best quality components and parts you will need to custom build your computer.
For the ultimate in service, knowledge and affordability, visit Spotty Dog Computer Services online today.
We combine expert knowledge with friendly service and everyday low prices to deliver the best value to you.
Why get a Custom Built Computer?
Quality
High Quality Components
Whether you are looking for a computer system suitable for your home or your business, why would anyone want low quality and cheap components in their computer?  Using quality parts reduces the possibility of system failure and increases reliability.  So regardless of whether you are a Home User or a Business, everyone wants that right?
Lower Cost
Lower Cost of Ownership & Upgradeability
A custom built computer will most likely last longer and actually cost you LESS money over its lifetime. If you have ever tried upgrading a Brand Name computer system like a Dell with their use of proprietary parts, then you'll know what we mean. Painful and Expensive are two words that come to mind!
Known Parts
You will know what parts are going into your computer
We can Custom Build your dream computer for you. You can choose from a list of quality components from well know reliable manufacturers such as Asus, Coolermaster, Crucial,  Gigabyte, Intel, Logitech, Pioneer, Seasonic and Western Digital. Have confidence in knowing that you have high quality, stable components in your custom built computer.
Only the important stuff
We will only install the software you select
No trial software that you need to pay for afterwards and that can possibly degrade your computer's performance.  We will also ensure that even if you don't purchase a Security Product with your Custom Built PC, that we will install a free Antivirus solution and make sure that all Windows Updates and Patches are installed.  Along with that (and as applicable to the Operating System), we will install the latest versions of Adobe Reader, Adobe Flash, and Java.
Support
Warranty
All of our Custom Built Computers come with a 12 month Return To Base warranty.  If it is determined that you have a hardware fault, it will be repaired at no cost to you.
You also have the option to purchase an Australia Wide Warranty, in which case you are covered anywhere within Australia.
We are located in Morayfield near Caboolture halfway between Brisbane and the Sunshine Coast.  We service areas north of Brisbane including Morayfield, Burpengary, Caboolture, Upper Caboolture, Rocksberg, Bellmere, Beerburrum, Elimbah, Narangba, Kallangur, Dakabin, Petrie, Strathpine, Bray Park, Lawnton, Warner, Cashmere, Ningi, Bribie Island, Sandstone Point, Deception Bay, Wamuran, Woodford, Kippa Ring, Margate, Redcliffe, Mango Hill, North Lakes, Murrumba Downs, Scarborough, Clontarf, and other areas on a case by case basis.
We can also deliver your Custom Built Computer Australia wide for a nominal charge.  Freight charges vary depending on which State you are in.