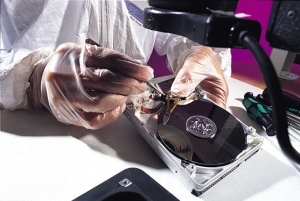 Like I always say, "Hard Drives can be replaced, but data cannot".  Software can always be reinstalled, but the loss of data can cripple a business or haunt a home user when they lose all those precious photos, and data recovery doesn't come cheap.
Time and again I inform both business and home users of the importance of backing up critical and important data, but it seems that most people only worry about this when it is all too late.
Sometimes you can be lucky and the data can be recovered from a faulty or damaged hard drive relatively easily and cheaply, however, there are times when this is not the case and you will either lose the data or it will cost you many dollars to recover it.
That is why it is so important to back up your data.
Data Recovery
One of Spotty Dog Computer Services specialities is Data Recovery from failed or damaged hard drives. In conjunction with our Specialist Data Recovery partner, in the majority of cases we can recover lost data from damaged hard drives, USB Flash drives or even Flash Cards and Flash Drives.
If you have ever had the unfortunate need to contact a Data Recovery Company in the past, you will know that Data Recovery Services can be an expensive proposition.  So it is vitally important that you back up your precious data.  Make sure that when you backup your data, that you back it up to multiple locations, and if at all possible, you should back your data up to an offsite location.
All too often we see individuals and businesses lose all their data because they can't afford the cost of recovering their data.  Don't let this happen to you.  Back it up, and back it up often!!!!
So if you have a damaged hard drive that is either not recognised by your computer, or it is making clicking sounds, then our Hard Drive Data Recovery Service may be able to get those precious files back.
You may also be interested in Carbonite which is an Offsite Backup Program.
As well as our Data Recovery Services, you may also be interested in some of our other services like:
We are located in Morayfield near Caboolture halfway between Brisbane and the Sunshine Coast.  We service areas north of Brisbane including Morayfield, Burpengary, Caboolture, Upper Caboolture, Rocksberg, Bellmere, Beerburrum, Elimbah, Narangba, Kallangur, Dakabin, Petrie, Strathpine, Bray Park, Lawnton, Warner, Cashmere, Ningi, Bribie Island, Sandstone Point, Deception Bay, Wamuran, Woodford, Kippa Ring, Margate, Redcliffe, Mango Hill, North Lakes, Murrumba Downs, Scarborough, Clontarf, and other areas on a case by case basis.