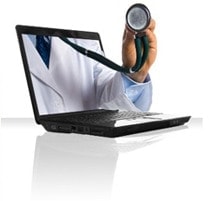 Here at Spotty Dog Computer Services we have the capability to provide Remote Online Computer Repair support and troubleshooting, using technology that allows us to connect to your computer online via the internet to troubleshoot your computer while you watch.  Depending on the problem, this may or may not be a viable alternative to bringing the computer into the workshop.
Remote Online Computer Repair
During your Remote Online Computer Repair troubleshooting session YOU will be able to observe all of the actions taken LIVE in real time by watching your screen while we attempt solve your problem.
Your mouse pointer will actually move around on your computer screen right before your eyes, and at any time, YOU will be able to resume control and cease the Remote Online Computer Repair session.
When the session has finished, we will permanently remove our connection and we will be unable to reconnect, unless YOU choose to reconnect.
The entire process allows you to take back complete control at any time, during and after the Remote Online Computer Repair session.
Of course there are some types of faults that do not lend themselves to a Remote Online Computer Repair scenario.  For example Hardware faults like faulty RAM and Hard Drives, and issues like Virus infections are not candidates for Remote Troubleshooting.
It is however especially useful for things like setting up email, or for tuition on how to do something in particular.
If you have any reservations about this process, please don't hesitate to call us on
(07) 5428-7905 or email us at [email protected], and we will be more than happy to clarify any concerns that you may still have.
You may also be interested in our Data Recovery Services and Website Design Services.