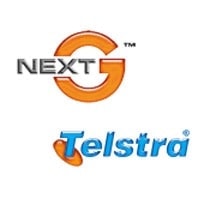 Ok I am probably a little biased considering I am a Telstra Dealer, but you have to admit when it comes to network speed and reliability, Telstra wins hands down.
Speaking at the Mobile World Congress in Barcelona, Telstra CEO Sol Trujillo announced that Telstra will increase the speed of its Next G network from 14.4 Megabits per second to 21Mbps on February 23, and to a staggering 42Mbps by years end. At 21Mbps, it is already the fastest network in the world and as such has been entered into the Guinness Book Of Records. That's roughly four times faster than anything currently available from other telcos. It appears that this commitment will also cover the HSPA (High Speed Packet Access) evolution outlined by Ericsson on 13th Feb, which could push future peak speeds to an amazing 168Mbps.
Business customers will be among the first in Australia to access Telstra's upgraded Next G service when it goes on sale next week. Telstra business customers will be able to sign up to the 21Mbps Next G service from February 23, but consumers will have to wait until April. The improved service will launch nationally with Mr Trujillo saying, "We won't be going city by city or base station by base station, it will go nationwide".
Mr Trujillo said consumers could expect to download a 2MB video in about 6 seconds with the speed upgrade. Although the network is capable of peak speeds of 21Mbps, a lack of compatible devices will make it difficult to achieve these speeds. The upgrade will only be available to users of mobile data devices, but Telstra is expecting 21Mbps compatible PDA's and handsets to be available at the end of the year.
Telstra has steadily increased the speeds of its Next G network since launching in 2006 with a theoretical peak speed of 3.6Mbps initially, then to 7.2Mbps in 2007 and 14.4Mbps early last year. Telstra now says the network will deliver speeds up to 42Mbps to 99 per cent of the population by the end of 2009. Real world speeds vary depending on location and how many users are on the network at any one time.
Now all we need is for Telstra to drop the pricing to a level that is affordable!!!!
https://www.spottydog.com.au/wp-content/uploads/2009/02/nextg1.jpg
217
210
Admin
https://www.spottydog.com.au/wp-content/uploads/2020/07/Logo-spotty-new.png
Admin
2009-02-16 07:59:35
2017-11-10 03:47:30
Speed boost for Telstra Next G Network