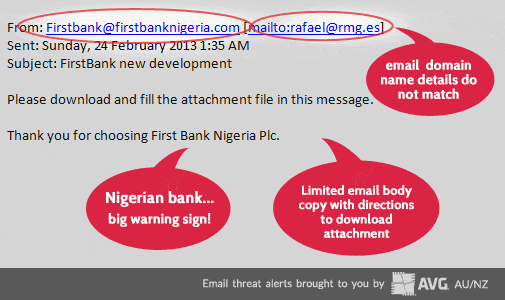 This is a very good article on a fake Nigerian Bank Email scam that is circulating.
But more importantly, it highlights how people think and why they get conned the way they do.
Article by AVG Security

Are you sometimes amazed by the types of scam emails you receive?

I often wonder who makes these up and for what reason (and if they ever have a proof reader?!).

With bank email scams, it can be difficult to spot the fake ones at times, particularly when the  images are the same as what the banks use and the language even sounds similar.

However, when this Nigerian bank scam email arrived in my inbox, I laughed. Yes, that's right, a throaty chuckle managed to escape and I rolled my eyes and thought to myself, who would click on this?

Firstly, you can see that the "reply-to" email address ends in ".est". Let's assume that leads to somewhere in Estonia! And it's not very likely that anyone in Australia or New Zealand will hold an account with the Bank of Nigeria… well, I wouldn't think so anyway.

If you receive an email such as this, the first thing you should ask yourself is, "Do I have an account with this bank?". If the answer is "no", immediately delete the email and empty your deleted items folder!

The same goes for any sort of email that you receive that is "unsolicited". For example, I bank with one bank and one bank only. If I get emails from any other bank, I delete them straight away because I know that I don't hold an account with them. And the same goes for any other email that I have not signed up for.

A good way to make sure you don't receive these kinds of emails is to not use your "primary" email address to sign up for things online. It's a good idea to create a separate email account (perhaps a Hotmail or Gmail one) that you can use when signing up to various competitions, forums and special offers. This way, your primary email address will only be known by friends and family.

Also make sure you have a good internet security program on your computer that includes an anti-spam solution. This means scam emails will be detected as spam and be dropped into a spam folder so you don't even have to see them!

Remember, don't click to open, click to delete!
Article Source: AVG Security
https://www.spottydog.com.au/wp-content/uploads/2013/03/nigerian_scam_email_feb_v21.gif
300
505
admin01
https://www.spottydog.com.au/wp-content/uploads/2021/04/Logo-spottydog-300x78.png
admin01
2013-03-04 15:46:29
2021-04-29 10:24:33
Why Would You Click On The Link? Watch Out For This Nigerian Bank Email Scam